A 20 year old male from McGehee was denied his right to vote on Thursday, February 27, at the McGehee early voting center located in the McGehee Municipal Center.
Instead of being given a provisional ballot, he was sent away with a voter registration form. He is already registered according to voter registration records I received from the Arkansas Secretary of State last Tuesday. He was registered on 4/20/2018. I also confirmed this using www.vvoterview.org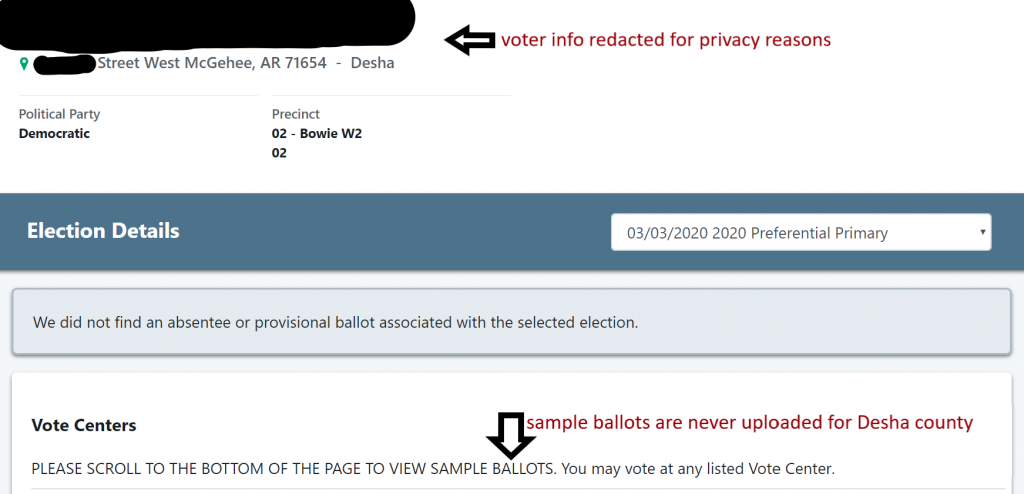 I will try to find out more about this on Friday, and provide an update.
——-Editorial Comment——-
If I could easily find he was registered, why didn't they?
As a former election commissioner, I can tell you exactly what should have happened.
First, when a poll worker can not find a voter on the "voter list" (computer database), they should call the county clerk's office.

Secondly, no voter should ever leave without being offered a provisional ballot.

This is a paper ballot, given to a person not found on the voter list, that the person marks and then places their ballot into an envelope, and then inside another envelope. This allows for investigation later to determine if the person is indeed a registered voter or not. If they are, then the inside envelope is placed with others, and then opened and counted.

This is done after election day, and those given a provisional ballot are supposed to be notified of the meeting so they may attend.

While I was an election commissioner , I saw people sent away without getting to vote, and not offered a provisional ballot. (Note: I refused to run for reelection as election commissioner in 2017 due to laws regularly not being followed, and EC/Clerk not willing to establish vote centers. The resistance to vote centers seemed to magically change as soon as I left.)

One young lady was sent to St Peter's Rock to vote after trying to vote at her correct location, the Dumas Community Center (before vote centers). They couldn't find her (and others) on their printed lists, so they assumed she was at the incorrect polling place, and sent her to St Peter's (sometimes other random polling places).

I was there, observing as an election commissioner, when I heard her being told she couldn't vote at St. Peter's Rock, and that she should try the Dumas Community Center. She said that's what they told her at the Dumas Community Center. She was late for work, but she agreed to meet me at the Dumas Community Center, where she first tried to vote.

Once there, I looked her up in the computer (before electronic voter rolls), and she was registered. The Dumas Community Center was her correct polling place. She was then allowed to vote.

While I was there, another person was being turned away with no provisional ballot. I tried finding her on the computer, but couldn't, so I called the Clerk's office. They confirmed she was registered and she was allowed to vote.

While it may seem these things are the fault of the poll workers, in my opinion, it's due to poor training, and a history of election commissioners abdicating their responsibilities to run our elections.

The previous EC's have allowed the county clerk (an elected official – there's a reason the EC is supposed to run elections and why they can't be elected officials) to pick, train, and supervise poll workers.

Arkansas law created county election commissions to carry out elections for a reason. Election Commissioners may not be elected officials, nor be on the ballot. Because of this, they should be impartial, and choose poll workers who will be as well.

Maybe the new chair of the Election Commission will be able to bring about the change needed.

If you experience any problems while voting, let us know at info@deltacurrent.com